I don't remember who said this, but they called for "compassionate conversation" about cannabis as… medicine! Its "fun" propensities are undeniable, and I have fond memories of waiting in line for the original Laserium at Griffith Observatory, watching people scarfing down doses of all sorts of stuff to prepare themselves for the state-of-the-art light show that awaited them.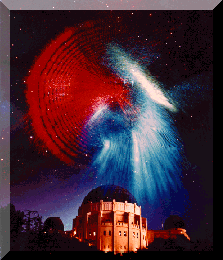 What a time it was, what a time it was… (I even remember the above graphic as one of their most famous, best beloved, posters at that time.)
But things are different now, and not just at the Observatory. My state is a "medical cannabis" state, and thank God for that, because cannabis as medicine is doing truly amazing things for me--as medicine.
I was interviewed by a local medical-cannabis purveyor, about my experience with cannabis as medicine, and I think it is definitely worth sharing this with you. If you're in a state like mine, and if you've been "accessorized" with neurological nonsense as I have, it is definitely worth having a compassionate conversation about these wonderful, wonderful, treatment options.
Click the picture below to connect with the interview, and see what you think about what might be a new treatment option for your own MS, should you be seeking such things. And who among us MSers isn't looking for something to make us feel…
better
.